2019 Ford SuperDuty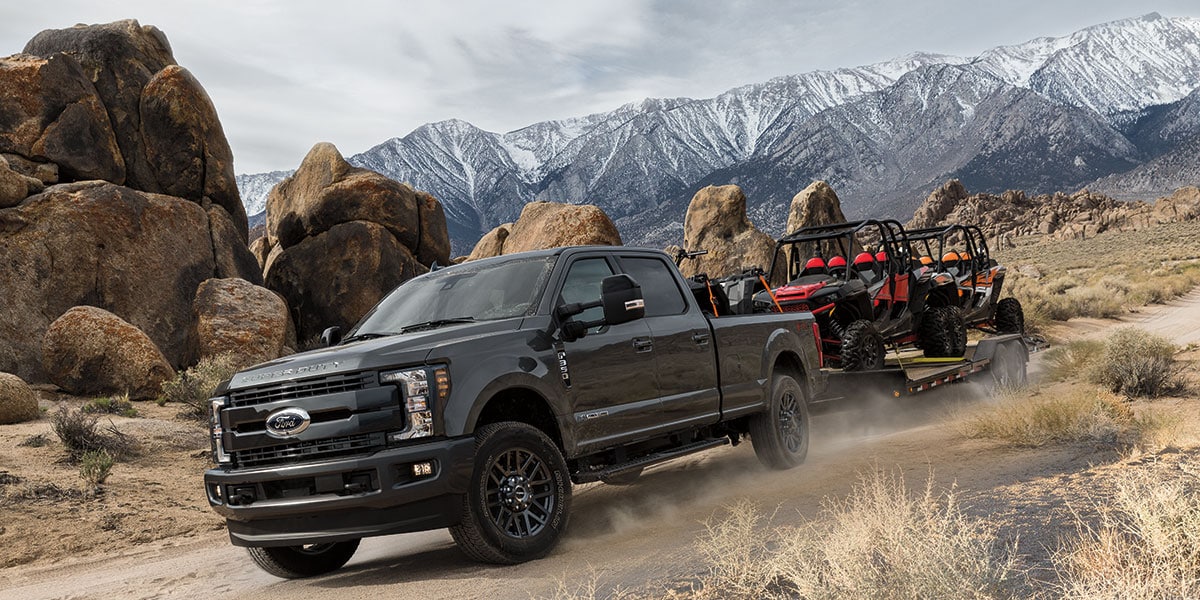 Today's Ford Super Duty® is the toughest heavy-duty pickup we've ever built. We started by cutting body weight with high-strength, military-grade, aluminum alloy. We then invested some of that weight savings where it really counts - in stronger axles, beefier steering and chassis components, and a fully boxed frame built of over 95 percent high-strength steel.* The result is a Super Duty that boasts class-leading payload and towing.**
*Compared with previous-generation Super Duty.
**Best-in-class payload when properly configured with 6.2L gas engine. Best-in-class towing when properly configured with 6.7L diesel engine. Class is Full-Size Pickups over 8,500 lbs. GVWR based on Ford segmentation.
LIGHTER BODY. STRONGER FRAME AND CHASSIS.
Cut the body weight of the previous-generation Super Duty® with high-strength, military-grade, aluminum alloy. Reinvest the weight savings in a stronger high-strength steel frame and chassis components. Put the muscle where it really counts to work for you on a tough job site or on rugged off-road terrain.
Try to avoid water higher than the bottom of the hubs and proceed slowly. Refer to your owner's manual for detailed information regarding driving through water.
THE MOST PULLING POWER. PERIOD.
The Ford Super Duty® rules in the high-torque performance needed for hauling and towing huge loads. The 6.2L gas V8 with its best-in-class torque* delivers heavy work-capable muscle. Need a durable, powerful diesel? Ready to join your workforce is the available Power Stroke® Turbo Diesel, the class leader in horsepower and torque.*
*Class is Full-Size Pickups over 8,500 lbs. GVWR based on Ford segmentation.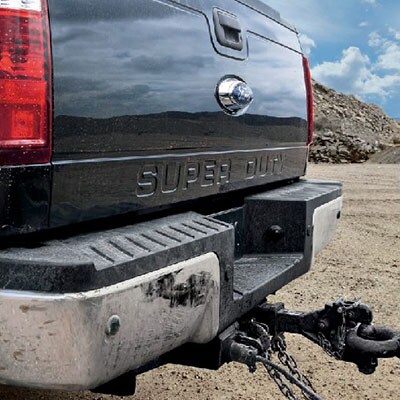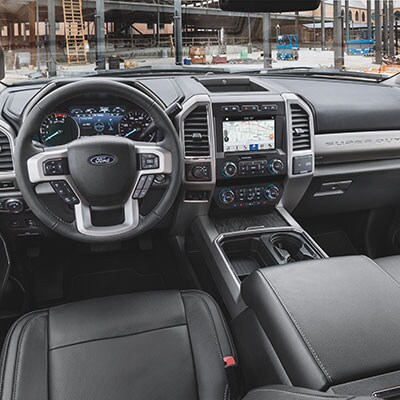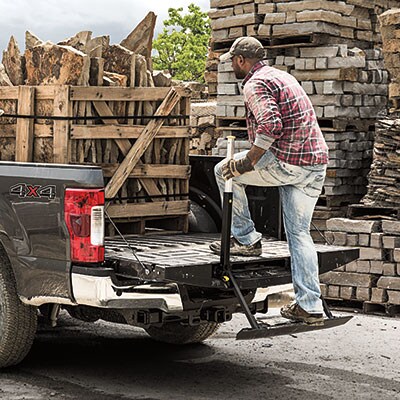 FordPass™ Connect
With FordPass Connect, drivers and passengers can enjoy an in-vehicle Wi-Fi hotspot. It features a 4G LTE Wi-Fi hotspot, powered by AT&T. Up to 10 devices can connect at once, and you can use FordPass to keep track of your Wi-Fi data usage. Also, you can access the hotspot from up to fifty feet outside the vehicle.
Optional feature includes complimentary 1-year subscription for remote features excluding Wi-Fi hotspot starting at vehicle sale date. Subscription subject to compatible 4G network availability. Evolving technology/cellular networks may affect future functionality. Certain restrictions, 3rd-party terms, or message/data rates may apply. FordPass app compatible with select smartphone platforms. Wi-Fi hotspot includes complimentary wireless data trial beginning at AT&T activation and expiring at the end of 3 months or when 3GB of data is used, whichever comes first, but can't extend beyond complimentary subscription period for remote features. To activate, go to www.att.com/ford.
Advanced Fuel Options
Compressed natural gas (CNG) and propane are advanced fuel options to unleaded gasoline with the CNG/Propane Gaseous Engine Prep Package,* available on the 6.2L gas V8. What's more, the CNG/Propane Package with the addition of the necessary upfits for bi-fuel capability enables the 6.2L V8 to run on either liquefied propane gas or unleaded gas. The 6.2L V8 is a flex-fuel engine, capable of running on E85 (85% ethanol, 15% regular gasoline); the available 6.7L Power Stroke® Turbo Diesel is B20-capable (20% biodiesel, 80% petrodiesel).
*Vehicle will be equipped with the standard factory gasoline fuel system. The CNG/Propane Gaseous Engine Prep Package includes hardened exhaust valves and valve seats. It does not include compressed natural gas/propane fuel tanks and lines, etc. See your dealer for details.